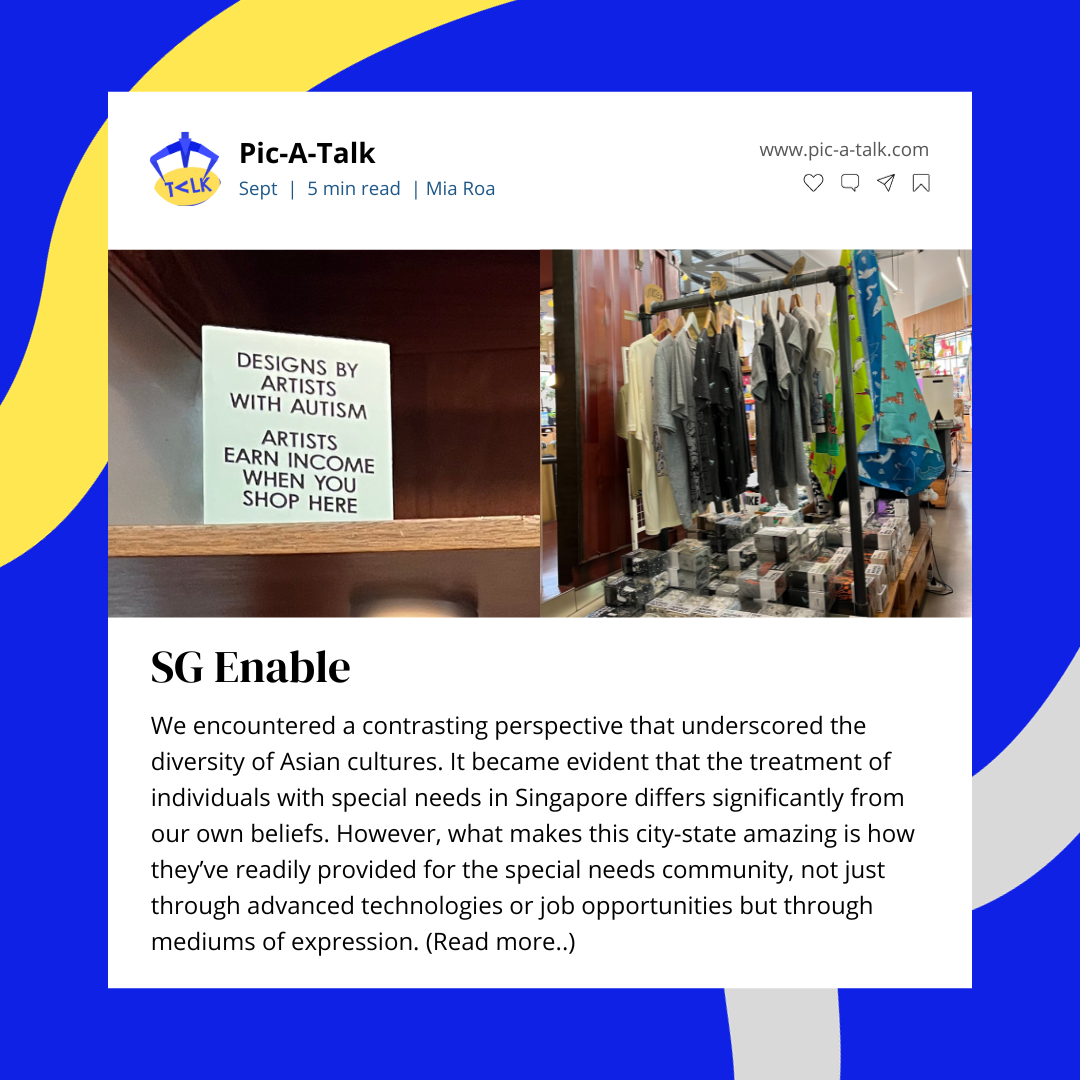 SG Enable is an autism and disability organization in Singapore.
In the Philippines, we have this belief that if a special child is born into a family, then the family will be blessed in the future. It's a belief that's been shared from generation to generation, even though there's no scientific or even traditional basis to this. It says a lot about the Philippines' culture to endure hardships in the hopes that better times will come in the future. During a recent visit to Singapore, we encountered a contrasting perspective that underscored the diversity of Asian cultures. It became evident that the treatment of individuals with special needs in Singapore differs significantly from our own beliefs. However, what makes this city-state amazing is how they've readily provided for the special needs community, not just through advanced technologies or job opportunities but through mediums of expression. 
Our experience during our visit to the Lion City for the LKYGBC was a poignant reminder of the reality the autism community faces in today's society. Engaging in conversations with the local residents and students, we gleaned insights into the challenges faced by individuals with disabilities and disorders. It's important to note that not everybody in society shares the same views as one another and each person we've met has been kind and forgiving. Based on our conversations, it became apparent that understanding of neurodiversity has not yet taken deep roots, even in a society as progressive as Singapore. But this isn't a setback – in fact, it is a challenge for progress to grow and develop and Singapore has always been the hub of innovation, taking chances left and right to continuously strive for the best.
Despite the occasional challenges in public perception, the autism community is fortunate to benefit from a remarkable degree of government support and an extensive support structure. Esteemed organizations like SG Enable play a pivotal role in providing a diverse range of services, spanning from educational support to vocational training and respite care. However, the challenge often lies in the competitive education system and the pressure on children with autism to conform to mainstream educational standards. 
Visiting SG Enable, an organization dedicated to serving individuals with special needs, was a truly eye-opening experience. From the moment we stepped through their doors, we were greeted with a warm and inclusive atmosphere that radiated a sense of acceptance and support. The staff at SG Enable demonstrated unwavering commitment and compassion in their work, providing a wide range of services and resources to help individuals with special needs lead more fulfilling lives. As we toured their facilities, we were struck by the diverse technologies and initiatives tailored to meet the unique needs of their clients, from vocational training to high-tech AACs specifically tailored to each individual. It was clear that SG Enable was not just a place of assistance but a vibrant community where individuals with special needs could thrive. The entire visit left us deeply inspired and grateful for the vital role they play in enriching the lives of those they serve.
During the visit, we had the amazing opportunity to talk to the Executive at Tech Able, Kelly Chua, who explained to us how SG Enable is one of the many organizations in Singapore that tailors to the needs of the neurodivergent community. Walking into their office made us realize how advanced the country is compared to the Philippines. Different AAC technologies ranging from easy to advanced were on full display inside the office, catching your eye thanks to its colorful assortments. Examples were large keyboards catered for the user to clearly see the letters, picture books that were designed for kids in early development stage, and picture exchange communication systems or PECS for short that are known to guide kids with special needs to communicate to their caregivers.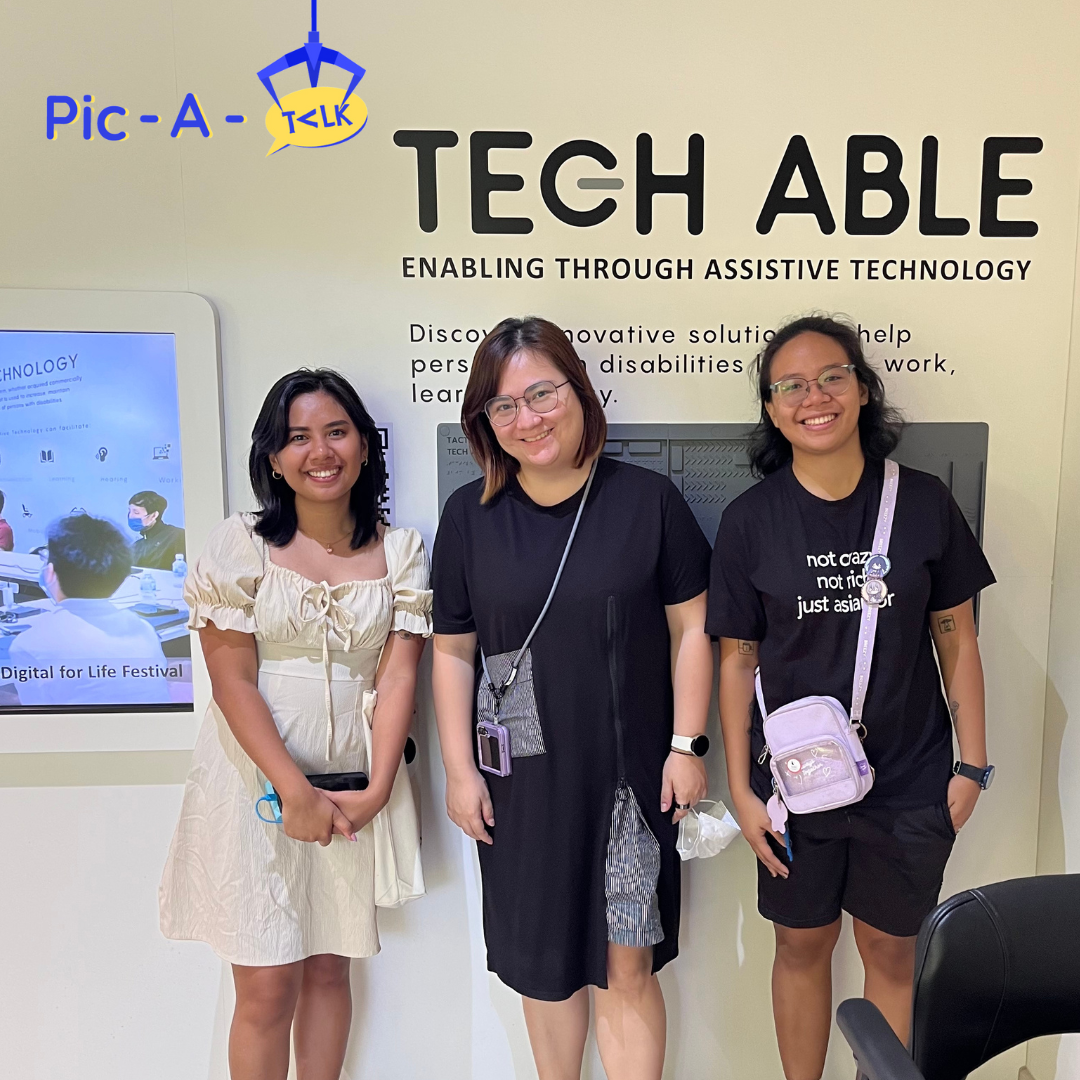 Pic-A-Talk CEO, Uma Roa (left), Kelly Chua from SG Enable (center), and Pic-A-Talk Secretary, Mia Roa (right)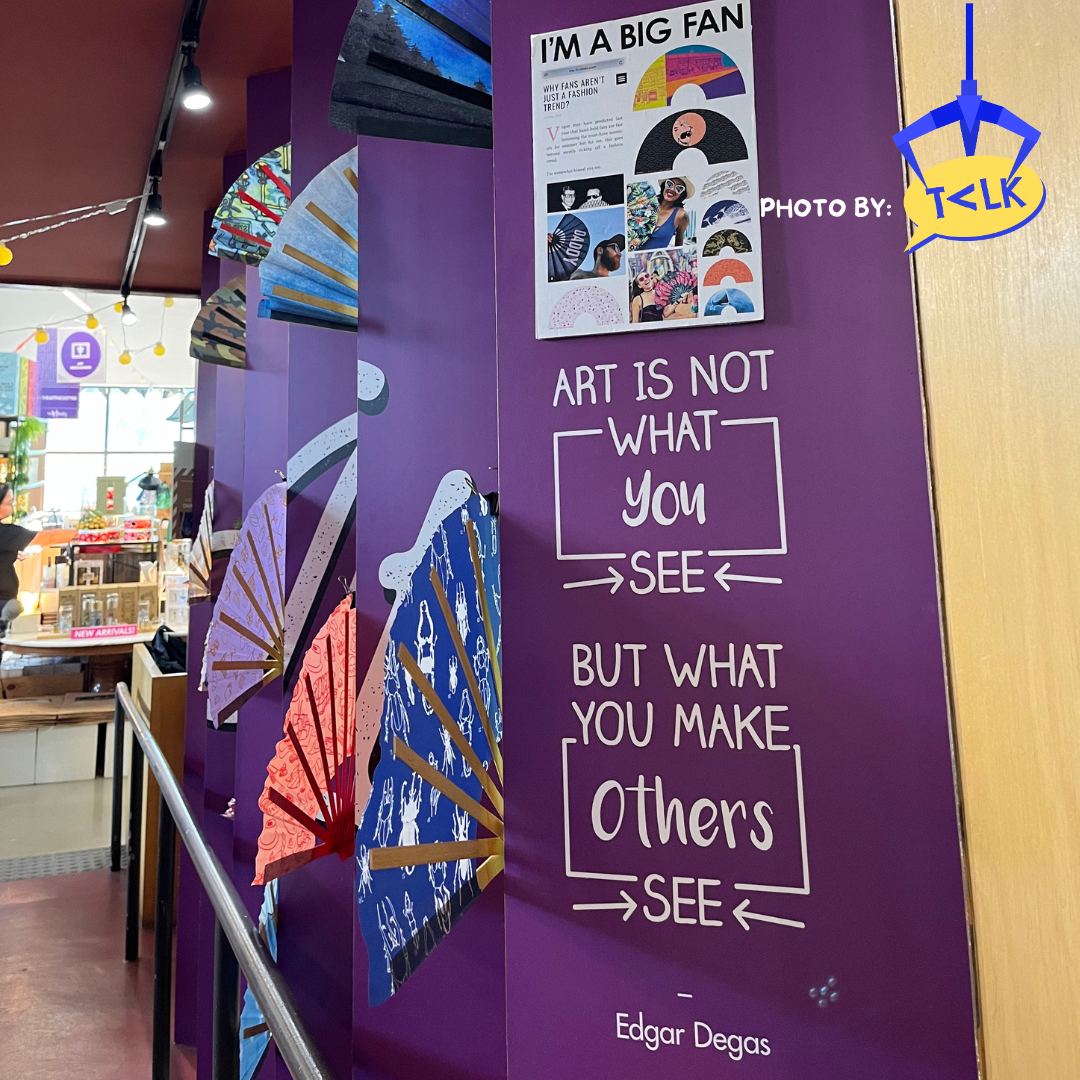 "Art is not what you see but what you make others see."
Early intervention is one of the most crucial aspects Kelly Chua taught us when it comes to how SG Enable operates. At an early stage, it's important to assess the learning capacity of the child so that they're still able to join mainstream educational standards as they grow up. The therapists at SG Enable are the ones who assist in the assessment of the child and the training of the AAC device most suitable for their needs. It's a clear-cut system, one that gives the child autonomy over their own learning as they navigate the AAC that best fits their style. 
Another highlight of our visit to SG Enable is their cafe called the Art Faculty. According to Kelly Chua, they have hired neurodivergent people to work as baristas in a coffee shop that was just a few paces from Tech Able. Upon entering the coffee shop, we were amazed to see how a neurodivergent person not only thrived in their role as a barista but also willingly talked to people during their working hours, shattering preconceived notions about their capabilities. Additionally, artworks from various and talented artists who are on the autism spectrum were on full display for eager cafe-hoppers to see. We weren't allowed to take pictures but the talent was unmatched. Each work clearly showed the unique personality of every special individual.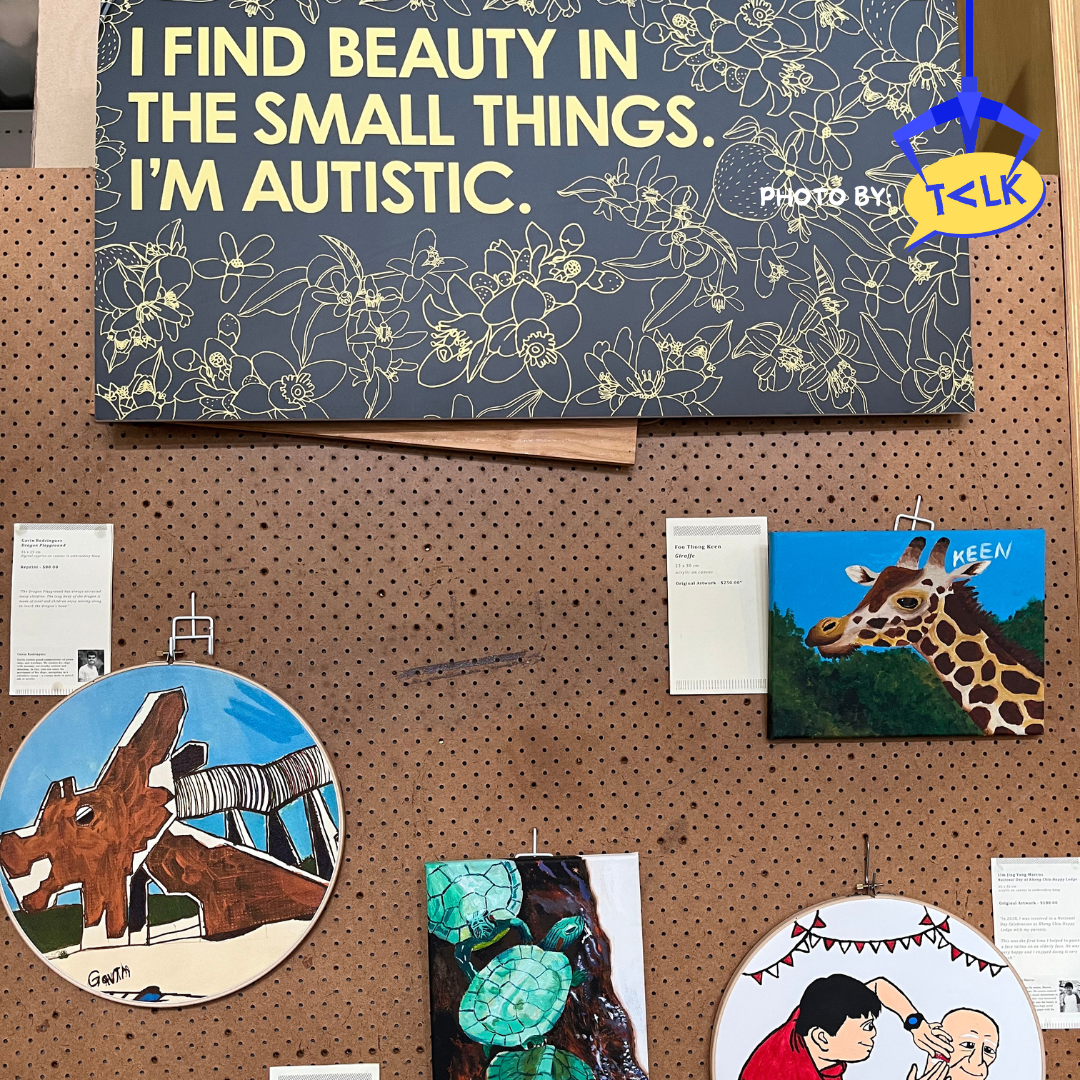 "I find beauty in the small things. I'm autistic" is a beautiful outlook The Art Faculty employs.
One such work was the recreation of dinosaurs in miniature form with an explanation of how the artist has grown up always fascinated with these creatures. Another work focused on creating abstract art, which really puts how they see their world into a whole different level.
Other than providing quality coffee and amazing art, the Art Faculty also showcased a wide range of gift shop items that you could purchase. These items were handcrafted by the neurodivergent individuals themselves and displayed descriptions of who these artists were. Sometimes, the descriptions talked about their work ethic, their backgrounds, or interests in life. We were truly amazed by the depth of understanding and insight we've gained into these people's lives.
Singapore stands out as a beacon of hope and progress for the special needs community, offering unparalleled opportunities that are often lacking in the Philippines. The city-state has made remarkable strides in fostering an inclusive and supportive environment for individuals with special needs. It boasts a robust infrastructure with organizations dedicated to empowering and facilitating the integration of individuals with disabilities. Through an array of services encompassing education, vocational training, and respite care, Singapore's commitment to the well-being and development of those with special needs is readily apparent. Moreover, the country's dedication to ensuring accessibility in both public spaces and education reinforces its status as a pioneer in this regard. While these opportunities in Singapore flourish, there is a pressing need for similar progress in the Philippines, where support for the special needs community is still in the process of evolving.
We can only hope that in the future, people with special needs won't have to be hidden away or simply tolerated in our society. Kelly Chua commented that the times have changed and people are more open to understanding those who stand apart from the majority, those who are different, those who are special. Our visit has not only inspired us to pursue a more high-tech and inclusive Philippines for the autism community but has also revitalized our vision and mission to create a world where everybody, regardless of their capabilities, are accepted.