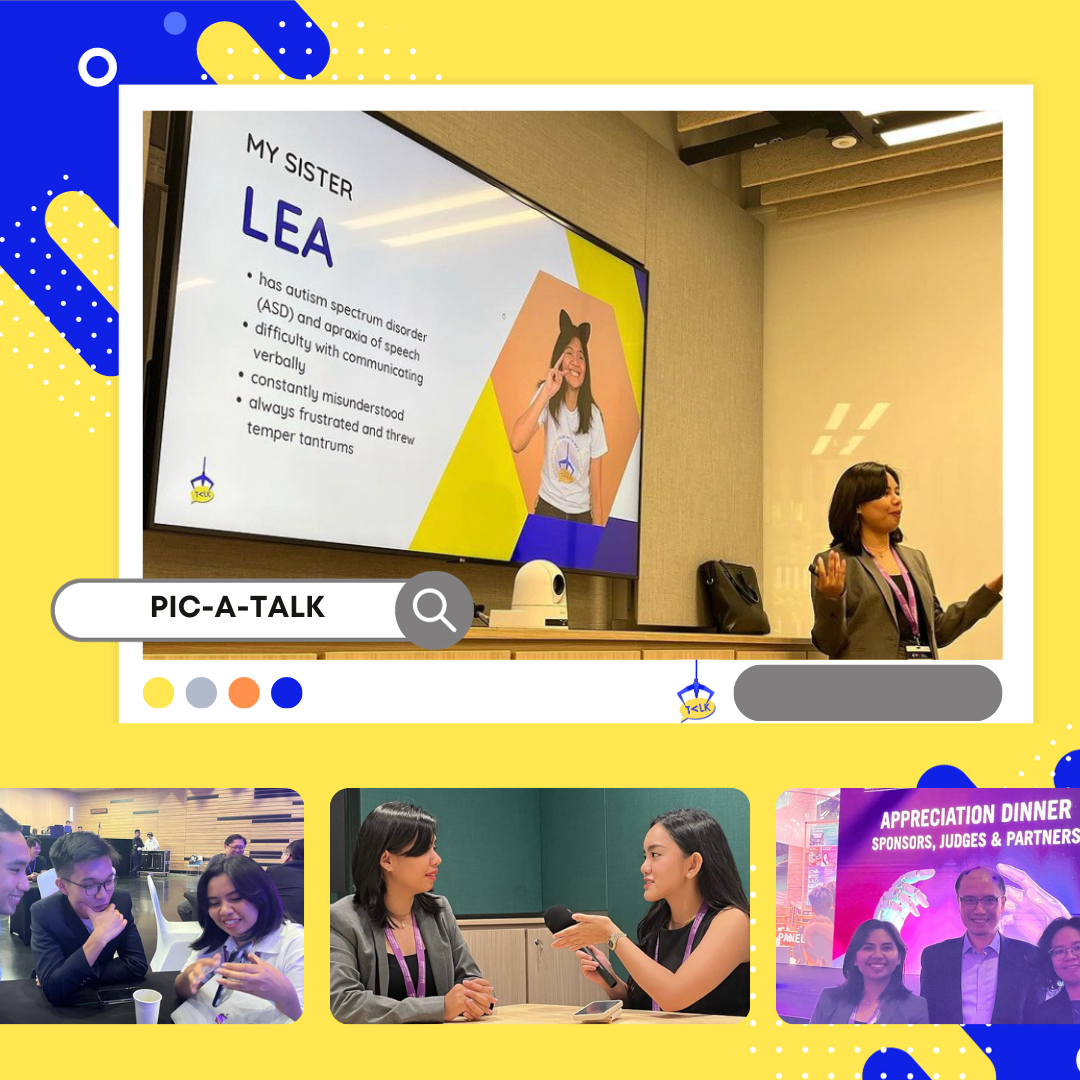 Pic-A-Talk is the only Filipino start-up to have made it to the LKYGBPC held in Singapore this year!
The Lee Kuan Yew Global Business Plan Competition is an internationally recognized competition that focuses on fostering innovation and entrepreneurship in the field of business. Named after the founding father of Singapore, Mr. Lee Kuan Yew, this competition is organized by the Singapore Management University (SMU) and is typically held annually.
The competition serves as a platform for aspiring entrepreneurs and business students from around the world to showcase their innovative business ideas and plans. It encourages participants to develop comprehensive and viable business plans that address real-world challenges and opportunities. These plans often span a wide range of industries, from technology and healthcare to finance and sustainability. Amazingly, Pic-A-Talk was one of the 50 finalists out of a 1,000, representing the Philippines on the global platform, alongside start-ups from all over the world. 
The first day of our event was an exhilarating whirlwind of opportunities and connections. We began by socializing with the other top 50 finalists, forging bonds that promised to last a lifetime. The excitement only intensified as we got the incredible chance to meet the Deputy Prime Minister of Singapore – Heng Swee Keat, a moment of inspiration and motivation that set the tone for the entire event. Moreover, our tour of the Singapore Management University campus was not just informative but also awe-inspiring, offering a glimpse into a world of innovation and knowledge. Later in the day, we were given the incredible opportunity to pitch in front of SMU college students, sharing our visions and ideas with an eager audience. The adrenaline rush continued as we were chosen for the 1-minute pitch on stage, where every second counted. As if the day couldn't get any better, we finally met our mentor, Sugandhi Matta of ABC Impact, and student ambassador, Shang Ze Koh, who would guide and support us on this exciting journey. The first day was an unforgettable blend of networking, inspiration, and empowerment, setting the stage for an event that promised to be truly transformative.
On the second day of LKYGBPC, the anticipation was palpable as we geared up for the Category Finals pitch. With just five minutes to present our startup to a panel of esteemed judges, nerves were running high. The morning was filled with last-minute preparations, practicing our pitch with each other, and mentally rehearsing responses to any possible questions that might come our way. It was a true test of our resilience and ability to convey our startup's vision concisely and persuasively. 
To add to the excitement, we had the privilege of doing an interview with BackScoop's CEO, Amanda Cua, a fellow Filipina entrepreneur. We shared the motivation and inspiration behind Pic-A-Talk, which added an extra layer of motivation to our journey. Knowing how tight the competition was, we were cautiously realistic but hopeful about our chances. The moment of truth arrived, and the news hit us with a mix of disappointment and acceptance: we weren't among the Top 8 Finalists of the competition. While our hearts sank with the realization that our immediate expectations were not to be, there was an overwhelming sense of happiness for the other startups that had made it to the finals. We knew firsthand the sheer dedication and hard work it took to reach this stage, and we applauded their well-deserved success.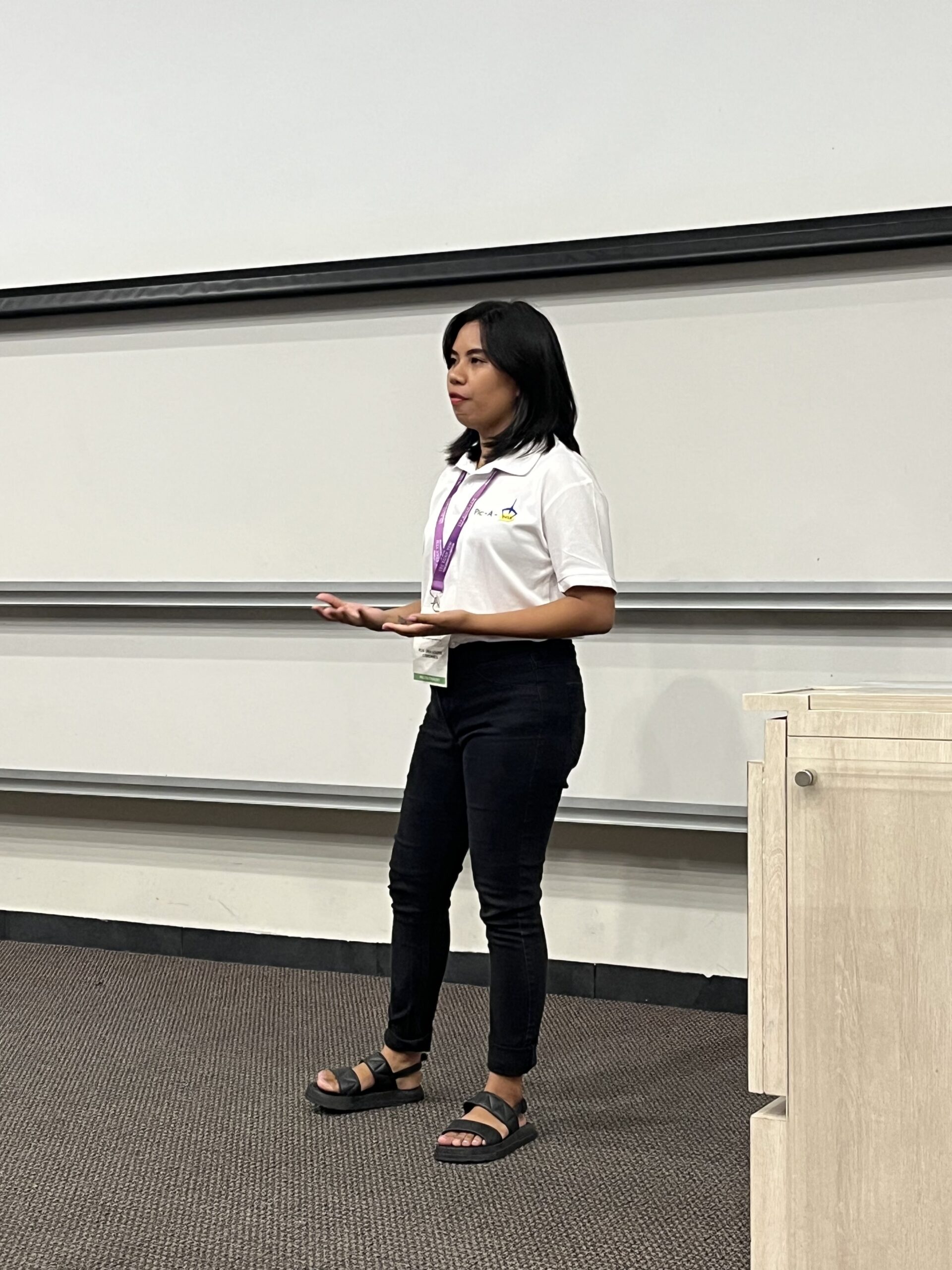 Uma Roa, CEO of Pic-A-Talk, pitching during the Classroom Takeovers at SMU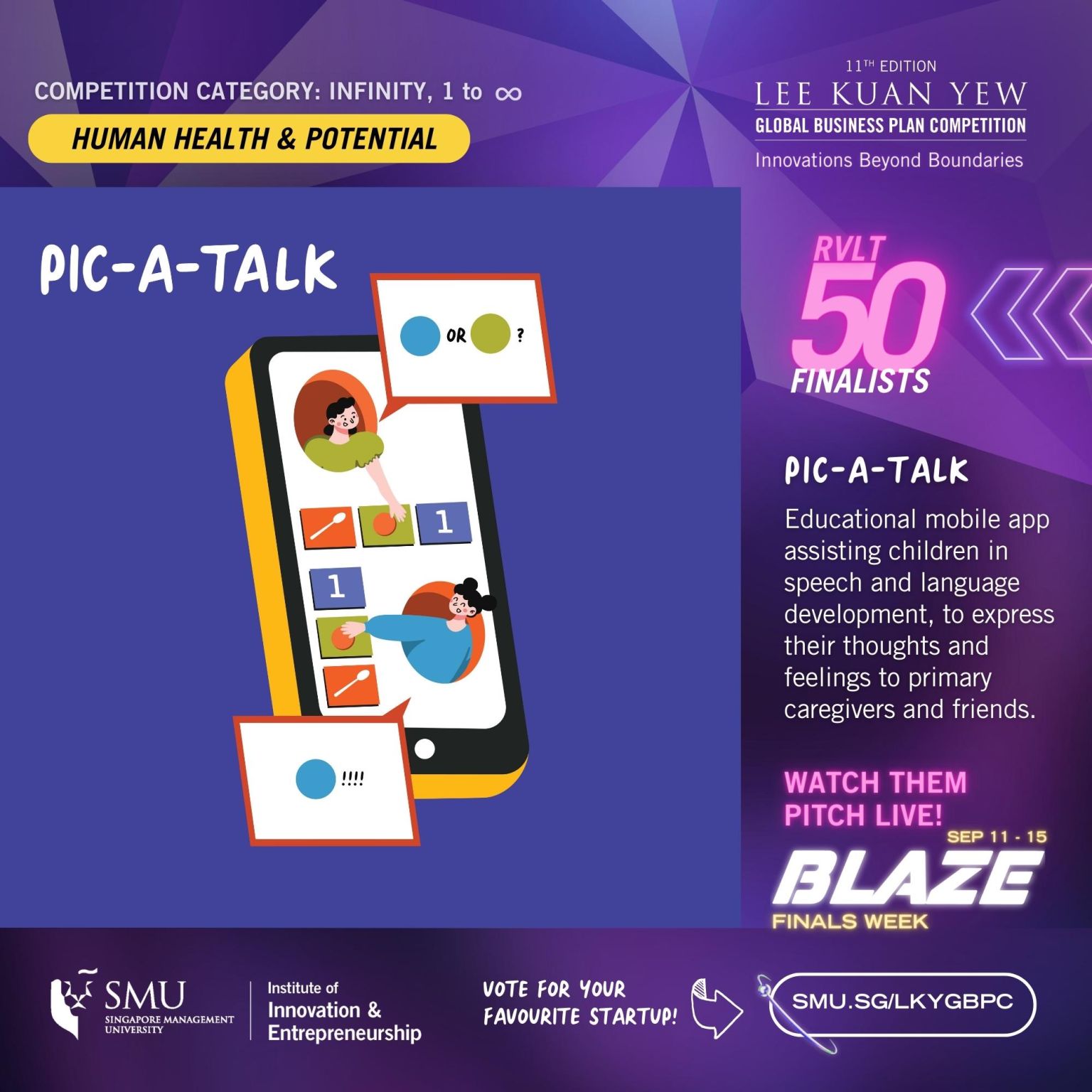 Pic-A-Talk in the LKYGBPC Social Media Post
Our disappointment soon gave way to a positive outlook, as we recognized that this was still a valuable learning experience. Being able to witness the innovation and determination of entrepreneurs from Germany, the United States, Singapore, China, and beyond was an opportunity in itself. It was a chance to broaden our horizons, gain insights into different entrepreneurial ecosystems, and further fuel our passion for innovation and growth. It's crazy to think that 73 out of the world's Top 100 Universities were in attendance at the competition and we were part of it! That's an achievement that we are incredibly proud of. 
Day 3 of The Lee Kuan Yew Global Business Plan Competition was a thrilling journey that transcended all our expectations. We embarked on a thrilling exploration of innovation hubs like The GEAR, Kajima, @LaunchPad at OneNorth, and Sembcorp Industries Ltd, where we engaged and shared our startups with investors, industry leaders and executives. It was a day filled with inspiration, as we exchanged ideas and experiences with fellow participants from around the globe. The energy in the air was palpable, a testament to the power of entrepreneurship and innovation. It was in these interactions that we felt the true spirit of the competition, a platform where ideas converged and dreams took flight. Day 3 was not just about networking; it was a vibrant tapestry of knowledge sharing, collaboration, and the realization that our startups were part of a global community striving for positive change.
On the last day of the event, we took a step back and watched the last stages of LKYGPBC unfold. The Finals Pitch was a remarkable moment during the competition, as we gathered to watch the Final 8 startups deliver their last pitches on the grand stage. It was an awe-inspiring experience to witness the caliber of these entrepreneurs, and we couldn't help but be impressed by their exceptional speaking skills and the undeniable quality of their business propositions. It was clear that they had rightfully earned their spots as finalists in the competition. Personally, I couldn't help but notice that MEDEA Biopharma and PlasticFri were leading the pack, both in terms of their persuasive speaking abilities and the tangible results they had achieved in their respective businesses. It came as no surprise when they later emerged as multiple award-winners, a testament to their outstanding contributions to the entrepreneurial landscape.
The Mixer's Party at the CHIJMES Hall was an absolute highlight of our journey in Singapore. It was a vibrant evening filled with networking opportunities that opened numerous doors for our startup. As we mingled with fellow entrepreneurs, investors, and industry professionals, we quickly realized the potential for collaboration and growth. The atmosphere was electric, and the conversations flowed effortlessly. We were fortunate to meet people from diverse backgrounds who not only showed a keen interest in our venture but also had valuable insights and connections to offer. These chance encounters turned into meaningful relationships and partnerships that proved to be instrumental in our startup's success. The Mixer's Party wasn't just a celebration; it was a catalyst for the expansion of Pic-A-Talk and the realization of exciting opportunities on the horizon.
We want to stress the importance of Pic-A-Talk's presence on the global stage. As a start-up that focuses on improving lives and raising awareness of the autism community, we understand that our presence at this event signifies a step towards inclusivity and a chance to educate others about the importance of embracing neurodiversity. We are aware of the impact our start-up can have on breaking down barriers and stereotypes associated with autism. It is a reminder that with the right support and opportunities, our fellow Filipinos on the autism spectrum can live meaningful lives with their loved ones. 
While it's natural to aspire to win awards, it's equally important to recognize that the true essence of any journey lies in the lessons we gather along the way. We may not have claimed the top spot, but we've gained something even more precious: knowledge, experience, and a deeper understanding of ourselves and our goals. We have also forged valuable friendships and connections along the way, all of which have opened opportunities for growth and improvement. 
Our presence at the LKYGBPC as the only Filipinos remind us of the boundless potential that lies within our nation and the profound impact we can make on the world stage. Let's embrace this moment with gratitude, humility, and the excitement of knowing that we are contributing to a brighter future not only for ourselves but for the Philippines and the global community as well.